If you need a tooth replaced, look no further than dental implants, they're the best option available. When compared to other options for tooth replacement, dental implants offer a number of benefits in terms of aesthetics, comfort, function, durability, and general well-being.
Long-term dental health is a top priority for us at Lovett, Splendid, and Haven Dentistry. We can help replace teeth that have been lost as a result of dental injury or neglect. Call our office in Houston, Texas at 832-804-7427 to schedule an appointment for cosmetic dental services or to inquire about the many advantages of dental implants.
Dental Implants in Houston, Texas: Get a Free Consultation
Dental implants provide a long-term solution for replacing missing or broken teeth, appealing to both their form and function. Dental implants help the jaw bone stay healthy and stop teeth from shifting or drifting when they are used to replace missing or damaged teeth. They are the most cost-effective option for patients because they provide a permanent fix.
For example, once osseointegration (bone healing) has taken place, dental implants will allow you to once again enjoy your favorite foods, smile with assurance, and boost your self-esteem. Moreover, you can get the beautiful, healthy smile you've always wanted in just a single visit to the dentist.
What Kind of Dental Implant Care Do We Provide?
To replace one or more missing teeth with a dental implant, a single tooth must be extracted
Snap-on overdentures
Hybrid fixed dentures (Teeth in One Day)
Single Tooth Dental Implant
Once you have had a tooth extracted, you can have a single dental implant placed to restore your smile and your confidence. Even better, it's usually possible to have a single tooth implanted on the same day as the extraction.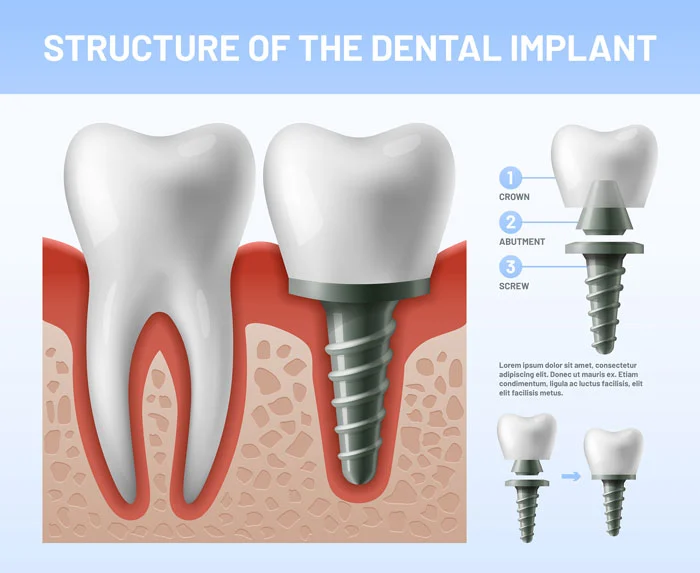 Insertion of a Single Crown-Supporting Implant
Cost: $2,999-$4,000
Your eligibility for a same-day dental implant will be determined by our dental specialist using a cone beam CT (CBCT) scan during your no-cost consultation. Get in touch with us at 832-804-7427 to see if you are eligible for a same-day dental implant procedure.
Advantages of Dentures Secured by Implants
Receiving dentures that are secured to dental implants has many benefits. Just a few examples of possible advantages:
When compared to a conventional denture, which covers roughly 70% of the roof of your mouth, implant-supported dentures do not extend to the same extent. The result is that a person with a denture supported by implants can once again enjoy the full flavor of the foods they eat.
Fixed in place and unable to move around, dentures secured by implants offer a secure and stable bite. Traditional dentures, on the other hand, can move around, rub, and even cut the mouth.
You'll feel better after getting implant-supported dentures because they won't move around. Every delicious and healthy food you love will be available to you.
Implant-supported dentures can be worn without the need for messy adhesives. These false teeth are lifelike in appearance and feel, and they perform like the real thing, too. When you flash a friendly grin in public, you automatically exude more self-assurance.
Fixed dentures supported by implants help preserve bone mass in the jaw by stimulating the bone while in place. Traditional dentures cause bone deterioration and an altered facial appearance because they are removed daily.
Different Denture Implant Options
Implant-retained dentures in Houston, Texas combine the low cost of traditional dentures with the security, versatility, and bone preservation benefits of dental implants. Dentures supported by implants are the best solution for tooth replacement for those on a tight budget who are self-conscious about their dentures slipping and clicking and who are frustrated by dietary restrictions.
We offer two different implant-retained denture options: a removable Snap-On Overdenture and a more permanent Hybrid Fixed Denture that can only be removed by a dentist. It is recommended to have at least two implants placed in the jaw to properly anchor dentures and distribute bite force.
Snap-On Overdenture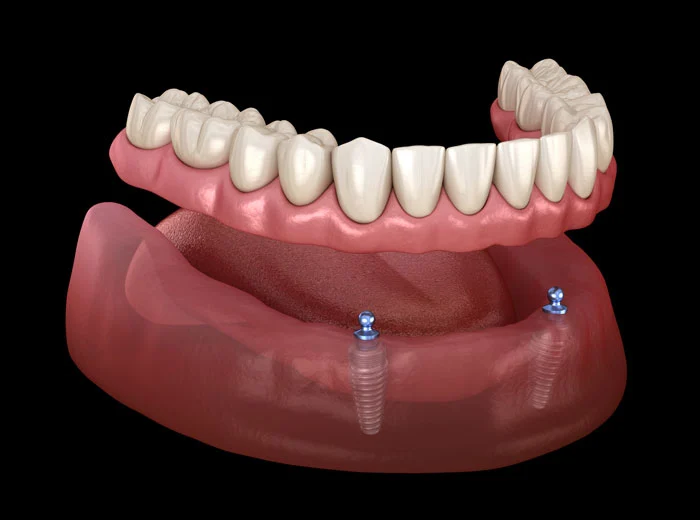 Snap-On Overdenture
Cost: $9,999-$12,000
After osseointegration (bone healing), titanium posts are placed into the denture and onto each implant to secure the Snap-On Overdenture in place. Snap-On Overdentures are designed to fit securely and snugly, which improves their effectiveness.
An overdenture that snaps on can be taken out whenever necessary. Patients have been most pleased by the advent of the implant retained denture in modern dentistry. Now, wearing dentures is not only easier, but also less embarrassing and stressful.
Fixed Hybrid Denture (Teeth In One Day)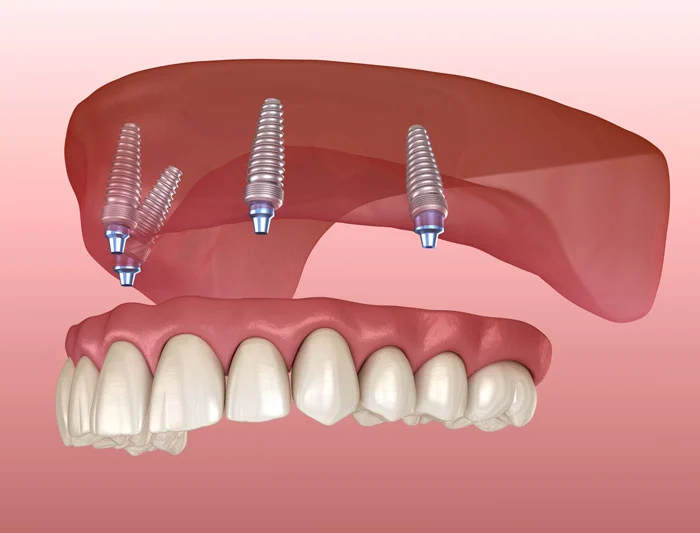 Hybrid Fixed Denture
Cost: $19,999-$25,000
Hybrid Fixed Dentures, also called Teeth In One Day or All-On-Four®, are a type of implant retained denture that are permanently attached to your implants and can only be removed by a dentist. The best and most reliable method for replacing all of your teeth is this. It usually takes four to six implants to permanently anchor a denture in place.
Procedures and Timeline for Dental Implants
As part of your initial, no-cost consultation, we'll take a CBCT scan of your mouth to see if dental implants are a good option for you. Following a conclusive diagnosis, we'll craft a specialized treatment plan just for you.
Next, surgery will be scheduled to place the implants and restore your smile. You could be sedated to sleep through the entire procedure. When you leave the oral surgeon's office, you'll have a set of temporary teeth that look just like your real ones while your gums and bone heal from surgery.
Important follow-up appointment after surgery, at two weeks after the procedure. After your dental implants have healed, we will remove any sutures, check their stability, and make any necessary adjustments to your temporary denture and bite to ensure your continued ease, functionality, and beautiful smile.
After ten to twelve weeks, your new permanent fixed denture impressions will be taken. At this visit, an x-ray will be taken to verify that osseointegration (bone healing) has occurred in your jaw. Our state-of-the-art dental laboratory will serve as the starting point for the design of your brand new, stunning smile.
We will place your new permanent implant retained denture in two to four weeks, and then your journey toward a better smile and more fulfilling life can begin!
How Much Do Implant Teeth Cost?
Dental implants are the most lifelike and comfortable option for replacing missing teeth. Implants are very popular among our patients because of their esthetic appeal, durability, and low maintenance requirements, but are they within your financial means?
Without an implant consultation using a CBCT scan, estimating the cost of dental implants can be challenging. The success and cost of implant placement vary from patient to patient and from mouth to mouth.
Please call 832-804-7427 to set up a no-cost implant consultation if you are considering dental implants but have questions about them first.
Factors That Determine the Cost of Dental Implants
In order to provide you with an accurate quote, we will need to know the following information during your free consultation for implants:
Do you need any extra dental work done before getting implants?
Is it just one tooth we're replacing, a few, or all of them?
Specifically, how are the implants being inserted?
Potential Additional Procedures with our Dental Team in Houston, Texas
It's important to have a healthy mouth with enough bone density for dental implants to be successful. However, before dental implants can be placed in some patients, additional procedures may be necessary. Extraction, periodontal therapy, bone or sinus grafting may be necessary if further procedures are required.
To schedule a free CBCT scan consultation for dental implants in the Greater Houston Metropolitan Area, Beaumont, or Corpus Christi, give us a call at 832-804-7427 or send us a message through our website. Our Houston dental professionals are excited to see you.